ERF RoadSide Safety Design Conference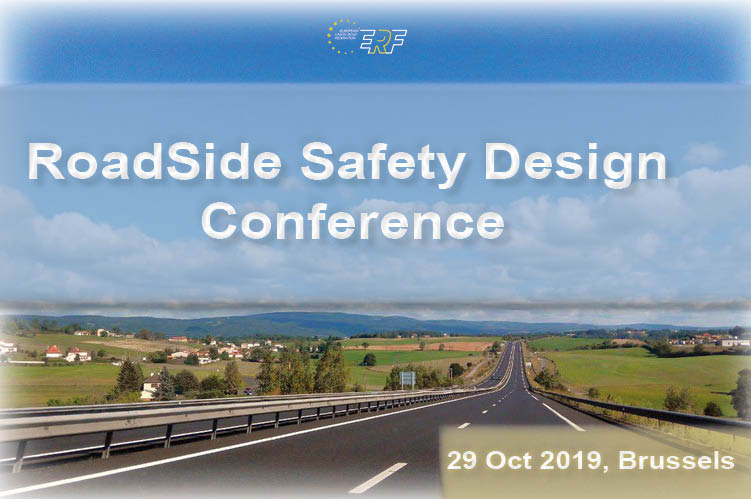 M.A.I., Rue Washington 40, 1050 Brussels
In cooperation with the Transport Research Board (TRB), the ERF is pleased to announce the 2019 edition of the Roadside Safety Conference on International Research Activities.
Following up on previous successes, the ERF is announcing a Call for Abstracts for the next European meeting which will take place on Tuesday 29th October 2019 in Brussels.
The one-day meeting will be a unique opportunity for road safety experts around the globe to gather and exchange information concerning the latest trends and developments in the area of passive safety and road safety design.
For other queries, contact ERF Secretariat
NB: Please note that there will be a registration fee of €50.
Call for Abstracts
Abstract Guidelines
Maximum 2 pages
Technical relevance and interest are the key point for selection – NO commercial paper or advertising
Deadline for submission of the abstracts: Monday 9th September 2019
Final abstracts acceptance confirmation date: Monday 23rd September 2019
The abstracts should be sent to info@erf.be and they will be reviewed by a technical committee.
Topics for Presentations
European Standards for Roadside Safety (EN 1317)

EN1317 – Testing-Requirements – Material characteristics – Durability

Roadside Safety Research update

Motorcyclist Protection Systems

Developments / implementation of Roadside Safety Solutions

Updates on crash tests

Simulation: Learning from Accident Reconstruction to improve products

Transitions

Notified Bodies and Accreditation issues

Roadside safety systems installation and certification

ETA and CE marking
Technical Committee:
Francesca La Torre, Sub-committee Co-Chair (IT)

Jeanne Foret, Aximum (Chair of the ERF RRS WG) (F)

 Martin Page (Deltabloc) (F)

 Joseph Marra (GDTech) (B)

 Christophe Nicodème (ERF) (B)