Roads and Rail 2021 Design & Development Conference & Expo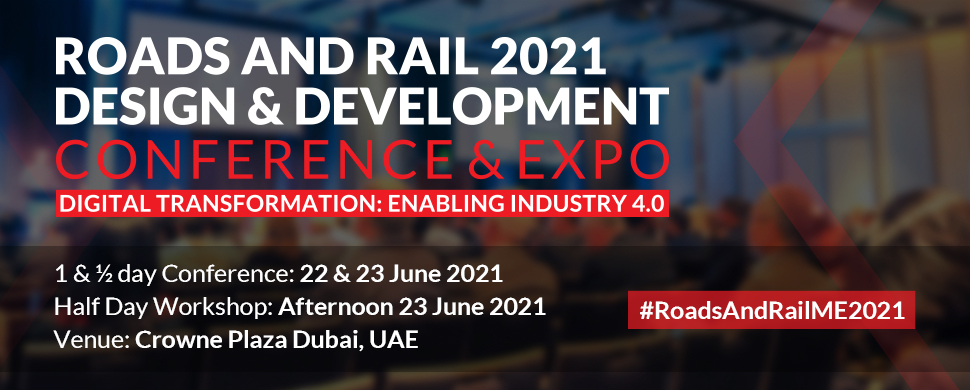 FUTURE OF LAND TRANSPORT INFRASTRUCTURE STARTS HERE!
Opening keynote presentation by Saeed Alramsi, Director Assets Management, Dubai RTA.
Event theme is Digital Transformation: Enabling Industry 4.0 and includes a 1 & ½ day conference on the latest in road and rail design, development, and management strategies.
It will include buildingSMART International's recently launched IFC for Road Open BIM Standard project which is now making significant progress; and IFC Rail their largest project to date being the development of a common strategic goal to digitize rail infrastructure. Program also focuses on digital transformation of design practices and processes, how that transforms into effective project development, and subsequent asset management.
Presentations will be given by government departments and agencies, plus private sector organizations leading the way in rail and road infrastructure design, development, and management.
Afternoon of day 2 includes a workshop on: Applying and implementing Open BIM Standards and IFC for roads and rail infrastructure hosted by buildingSMART Slovenia and CGS Labs.
Event Sponsorship and Exhibitor Opportunities
If you supply the latest in digital construction and design technology for land transport infrastructure, you should sponsor or exhibit at this event. For further details contact Anthony on +971 (0)58 598 9062or email: anthony@meteklive.com
Register now for early booking discount:
1 & ½ Day Conference only registration fee: AED 695 / USD $189
1 Day Conference Plus Half Day Workshop registration fee: AED 750 / USD $204.