An overview of the EN1317
EN 1317 is a European Norm etablished in 1998 that defines common testing and certification procedures for road restraintsystems.   The use of the CE marking coming from its part 5 is mandatory for each EU nation as from January 2011.
It's important to point out that EN1317 do not states which barriers should be used in one or another situation, but it states which test a product should undergo to be in a certain performance class and what are the safety levels (ASI, THIV, etc..) and the classes of performance (based on different parameters).
EN1317 defines levels of performance: each user should evaluate, every time, which features he needs when choosing a safety barrier; those features are defined by the test outputs described in this norm, and they represent:
The performance class of the product (for which vehicles it is tested and under which conditions)
The "safety level" of the product under impact (through bio-mechanical indexes it is possible to rate the probability of injuries resulting from an impact with the product)
The space needed for its smooth operation (how much space it 'takes' during the impact, the amount of deformation after the impact…)
For each situation, it is generally preferrable to use a system whose working width is lower than the available space (for example on the edge of a cliff), while at the same time, ensuring appropriate safety features. In the same way, the containment level is chosen depending on the type of vehicle cicrculating on a specific road and according to the current risks (for example, falling off a bridge, entering pedestrian sidewalks or compromising the integrity of buildings).
EN1317: A detailed description
EN1317 is divided into different parts, each of which takes care of a different aspects or a different kind of product:
EN 1317 Part 1: Terminology and general criteria for test methods
EN 1317 Part 2: Performance classes, impact test acceptance criteria and test methods for safety barriers and vehicle parapets
EN 1317 Part 3: Performance classes, impact test acceptance criteria and test methods for crash cushions
ENV 1317 Part 4: Performance classes, impact test acceptance criteria and test methods for terminals and transitions of safety barriers *
EN 1317 Part 5: Product requirements and evaluation of conformity for vehicle restraint systems
TR 1317 Part 6: Pedestrian parapets
TS 1317 Part 8: Motorcycle road restraint systems which reduce the impact severity of motorcyclist collisions with safety barriers
*ENV1317 Part 4 is going to revised, becoming an EN and being divided into:
EN1317 Part 4: Performance classes, impact test acceptance criteria and test methods for transitionsEN1317 Part 7:  Performance classes, impact test acceptance criteria and test methods for terminals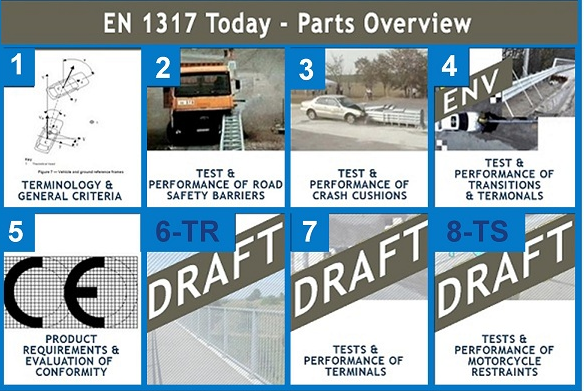 Crash Tests
This section is dedicated to displaying several crash tests of various road restraint systems products that are conducted according to the EN 1317.  The crash test are categorised according to their containment level.
Update of hEN 1317-5
In 2012, the CEN published a major amendment of the EN 1317, which is the second since the approval of the standard in 2007. The goal of this amendment was to integrate in the harmonised part of the standard (Part 5) the changes already introduced in the supporting parts (1,2 and 3) since 2010.  This was necessary in order for notified bodies to be able to award CE marks according to updated criteria.
The amendment also introduces performance classes concerning snow removal operations which concerns mainly Scandivian countries.
This section explains in a simple but concise manner the major changes introduced.
1. Removal of Post-Head Impact Deceleration (PHD)
In the 2007 version of the EN 1317, the Impact Severity was calculated by considering three distinct values:
– Acceleration Severity Index (ASI)
– Theoretical Head Impact Velocity (THIV)
– Post-Head Impact Deceleration (PHD)
EN 1317-5 2007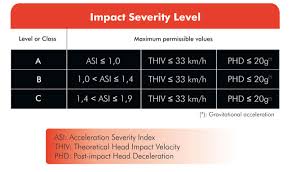 In the 2010 version, the PHD has been removed because, as a result of exentive empirical evidence, experts judged it to be unreliable as a parameter.
EN 1317-5 2012
2. Introduction of L-Class Containment levels
EN 1317 Crash Test Specifications – 2007 Version
In the 2007 edition of the EN 1317-5, the performance of the H-class barriers was evaluated by performing a test including a Heavy Good Vehicle(different for each class) and a small passenger car (the same test for all classes).
This meant a large percentage of 'middle class' vehicles currently circulating on the roads was not taken into account during the testing and subsequent certification of barriers, in particular family cars with an approximate weight between 1,500 kg and 2,000 kg.
As a result, the CEN working group introduced a new range of classes called 'L-Class' which as become a testing requirement and includes a third test of a middle sized vehicle to H-Class barriers.  The introduction of these new barriers will ensure a higher level of safety for users on Europe's roads.
EN 1317 Crash Test Specifications – 2012 Version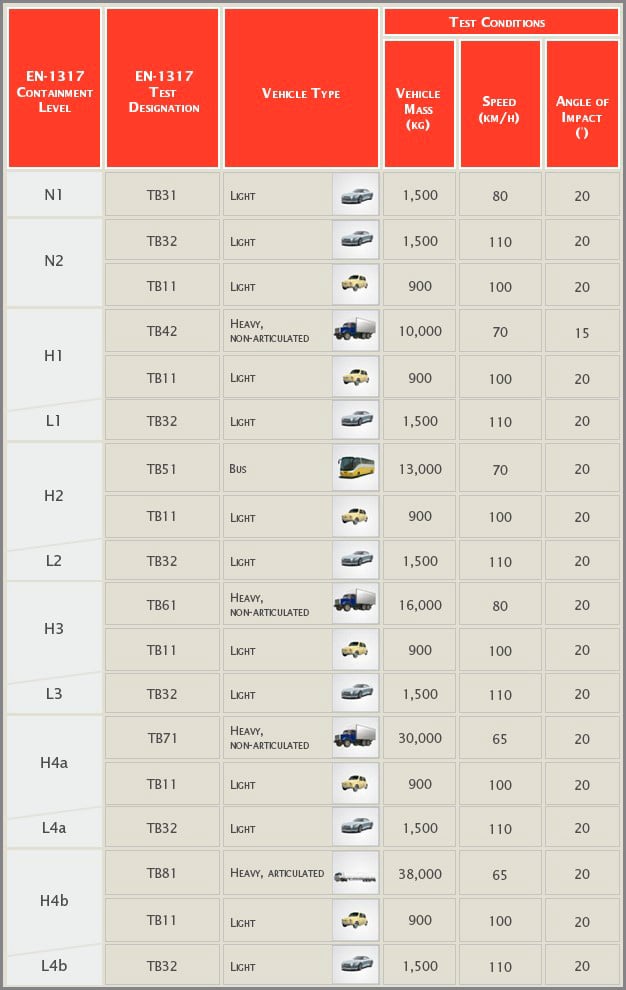 3. Normalisation of deformation indices
 In order to reduce the influence of the testing tolerances in the classification of performance of safety barriers, the deformation indices (working width, dynamic deflection, vehicles intrusion) are now normalised with the actual testing values for mass, speed and angle.