10 February 2021 | Brussels, Belgium
During the final steps before the formal approval of the future Recovery and Resilience Facility, main European transport associations have issued a joint statement on the importance of the transport and logistics sectors for the European recovery.
The vote at the Plenary of the European Parliament ahead of the Council's endorsement set the perfect momentum to rise political awareness of a sector which has been dramatically impacted by the crisis due to enormous mobility restrictions at peak moments of the pandemic.
However, transport and logistics have proven to be indespensable to ensure deliveries of essential goods to supermarkets or medical and health devices.
In this sense, main sectorial organisations call on member states to consider mobility industries in their national plans and benefit from the EUR 670 billion as enablers to transform and modernise their economies towards a more resilient Europe while leaving this crisis behind. The ERF totally supports this Joint Statement that addresses five main points:
 Emphasize that the transport and logistics sectors are critical for providing EU citizens with the goods and the mobility that are essential for their health and well-being and will be major enablers to a sustainable and resilient recovery of Europe's economy;

 Reiterate that the European Green Deal calls for a 90% reduction in greenhouse gas emissions from transport, which requires substantial investments in transport infrastructures and fleets;

 Stress that the objectives of the Green Deal for Europe to become a climate-neutral economy by 2050, can only be obtained by increasing the sustainability of the transport sector; note that the budget of the Connecting Europe Facility II is not sufficient to enable the necessary transformation;

 Call on the Member States to put forward in their recovery and resilience plans measures facilitating economically and socially sustainable transport and digitalisation in the transport and logistics sectors, measures promoting cohesion and connectivity, promoting livable cities and regions, supporting just transition, support strategies for more diversified sustainable supply chains in view of strengthening Europe's resilience as well as measures preparing the transport workforce for the digital transformation based on an inclusive social dialogue;

 Call on the European Commission to evaluate the prominence of economically and socially sustainable transport measures in their assessment of the National Recovery and Resilience Plans.
The following organisations are involved in the initiative: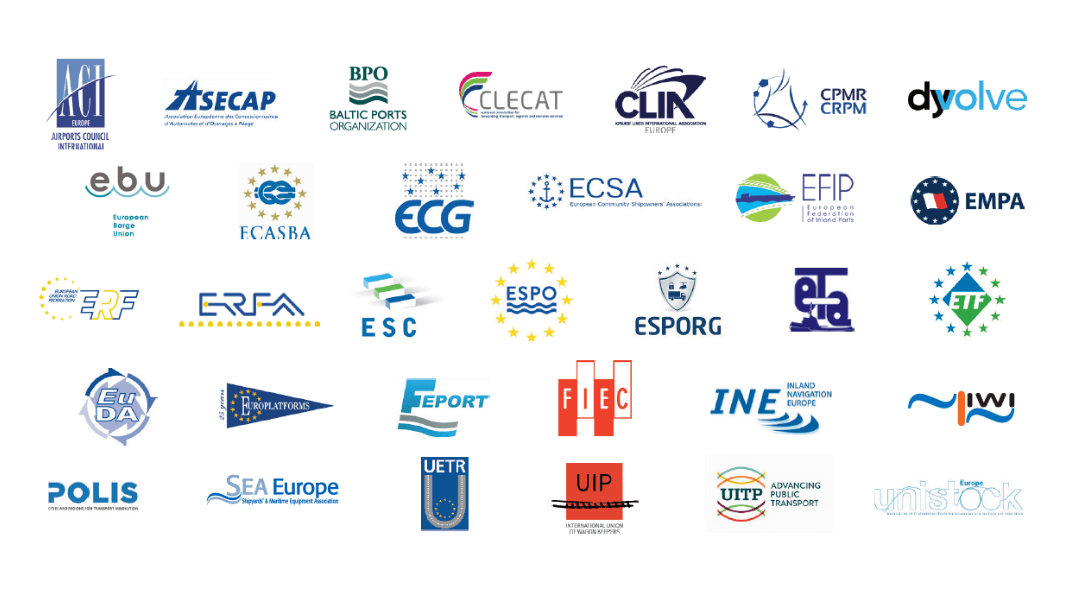 Download the full statement here