INTERNATIONAL CONFERENCE ON ROAD SAFETY SECOND EDITION – Smart and Safe Roads: the role of vehicle restraint systems.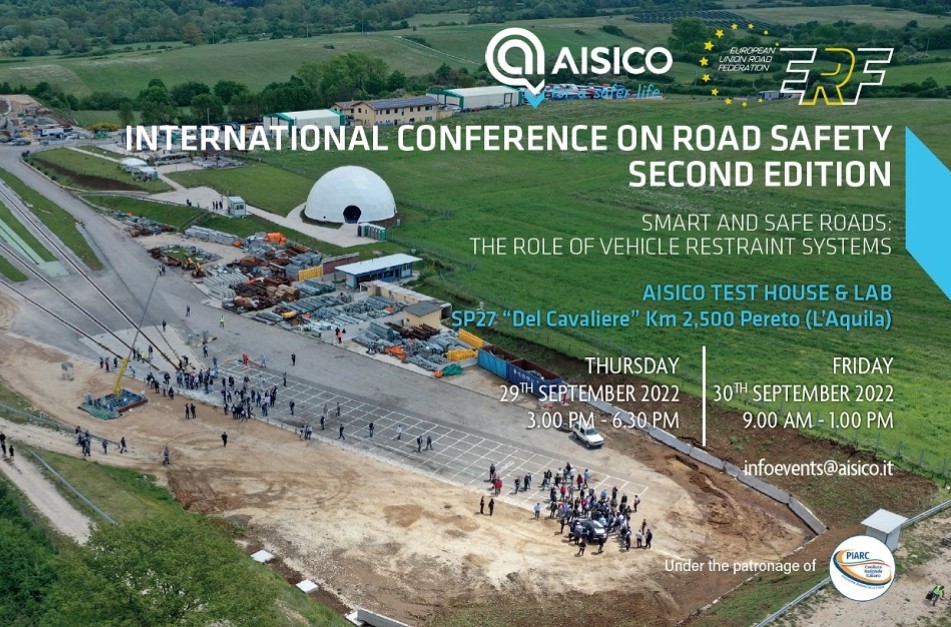 AISICO TEST HOUSE & LAB SP27 "Del Cavaliere" – Km 2,500 Pereto (L'Aquila), Italy
The main topic of the second edition of the International Conference on Road Safety – organized by AISICO and the European Union Road Federation (ERF) – is to analyse how road restraint systems are evolving to face an ever growing demand for  safety in a world that is moving towards smart roads.
The conference will be organized in 3 sessions.
The first will deal with "Safety Regulatory Standard" and on how they should change to meet smarter road requirements.
The second will involve National Road Authorities to highlight what they have in store and are planning for the next future.
The third will be dedicated to Manufacturers and Suppliers to know which are their technical updates and most advanced solutions to provide safer roads.
Registration is free of charge but subject to seat availability.
The secretariat reserves to confirm or not the reservation according to the available seats.
If you are interested, please fill in the registration form: